GUEST CHARACTERS
***MAJOR CONSTRUCTION AND SPOILERS AHEAD***
*
*
*
*
Here you can find information on characters appearing in SoRe that were created by people other than TMM or I. They are all original creations made from people in a forum I frequently talk to online. If you want to see how some of them came about, check out
this thread.
If you want to see the specific thread where I got permission to use these chars, check out
this thread.
Most descriptions on this page have been provided by the creators themselves. These chars right now are specific to this webcomic, and any other projects their creators make.
Andria
Credit: Andrusi
School: Pearl (Class rep)
Gender: F
Race: Human. Though some of the odder characters think she's a robot.
Age (how old you *appear*): Around 16 or so.
Looks: Medium height, medium build, a little thin. Pretty in a refined way, not really sexy per se. Dark brown, straight, back is down to about armpit level, bangs in front. Blue eyes, but not clearly visible due to goggles.
Outfit: A school uniform in its most "proper" possible configuration--skirt down to precisely above her knees, optional jacket is worn, bow is tied perfectly. Also wears a set of ski goggles with a yellow-tinted lens, a black frame, and a blue strap. The reason for this has never been explained. Usually carrying a red three-ring binder, home to any document the plot requires her to carry.
Personality: An intelligent, authoritative student council type, not unfriendly but distances herself emotionally from the other characters and always has to be in control.
Backstory: She used to belong in a harem/school anime where she fell for the main guy, but she became a forgotten background character and later found Pearl.

Anjou
Credit: Omgiamonfire
School: Sore
Gender:F
Race:Human
Age:16-17
Looks: Medium height and build, average looks. Short black hair and brown eyes.
Hair: short,black.
Eyes: brown
Outfit: Hoddie+jeans, headphones.
Personality: Sarcastic, cynical, smartass. She typically rolls her eyes at the stupidity of her classmates.
Backstory: ?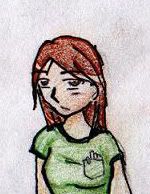 Christine
School: Sore and Real
Credit: Fort Max
Gender: F
Race: Human
Age: 16
Looks: Shortish height, medium build, brown hair and eyes, plain and nerdish. She usually looks bored.
Outfit: jeans, t-shirt, has a Bass Clarinet,a set of screwdrivers, and a paperclip.
Personality: Christine is somewhat of a loaner. ...is constantly tinkering and fixing things, especially the school's Bass Clarinets, as well as helping with computer issues. It can take her awhile to get motivated, but once she starts something she won't want to stop until she's finished. She is also known for threatening people with her Bass Clarinet's peg. Backstory: ?

Debrah
Credit: Devcon
School: Pearl (headmistress)
Gender: F
Race: Human
Age: Somewhat old, but not quite elderly.
Looks: Tall-sh height, scrawny build. Brown eyes, definitely gray hair and some wrinkles. Aged, glasses.
Outfit: Conservative black outfit, seems to carry a strange detonator-like device at all times... has a perpetual scowl.
Personality: Debrah is the current headmistress of Pearl. Prone to fits of anger (in which she yells at people to stay off the lawn, even those not even near it), she apparently fuels on coffee - and LOTS of it. While she looks old, rumor has it that she looks older than she really is, and has been artificially aged due to an accident involving radiation. She has lots of cats, all with Viking-sounding names (Sven, Erik, Thor, etc etc etc) and doesn't hesitate to sic them on students attracting her ire. She also has a life-sized picture of herself in her office, which she sometimes use as a decoy to avoid those darn boring functions - somehow people only realize they've been talking to Cardboard Cutout Debrah until after it's too late. Rumors fly that she has an alter ego of some sorts. Of course that's utter rubbish. And she has vowed to find and crush this "Debrahwoman" as she is ruining what little reputation she has.
Backstory: ?

Divebomb
Credit: Limabean
School: Pearl
Gender: Male
Race: ?
Age: ?
Looks: Green skin, long blond hair, white pupil-less eyes, leathery wings, spiked tail, buff. Black shorts.
Outfit:
Personality: ?
Backstory: ?

Eris no Miko
Credit: TV's Grady
School: Sore
Gender: F
Race: *Seemingly* human...
Age: 18
Looks: Medium height and build, pink hair and green eyes, sexy, yet weird and crazy looks.
Outfit: Playboy bunny suit, G1 Megatron, roll of duct tape, unidentified white powder, old-school ghetto blaster loaded with a cassette of Lou Reed's "Metal Machine Music"
Personality: Fighting a never ending war against normal people. Eris no Miko is a loyal and devoted operative of Operation Mind*SCRUBBED*, which doesn't exist anyway. (Fnord.) She valiantly defends the forces of chaos and meaninglessness from the Desperate Illuminatuswives, an evil conspiracy of soccer moms. To quote Eris no Miko herself: "Desperate Illuminatuswives, come out to PLAY-AY-YEEEE!!!!!!"
Backstory: ?

John Nemo
Credit: Nemo Yojimbo
School: Pearl
Gender: Male
Race: Human
Age: 22
Looks: 6'1", athletic build, black hair and silver eyes.
Outfit: Black shirt, black pants, fingerless gloves, long coat, katana.
Personality: brooding loner, secretly tokusatsu hero.
Backstory: ?

Negomi Misiki
Credit: tec
School: Pearl
Gender: Female
Race: Human
Age 15
Height: medium
Build: scrawny
Looks: Medium height, scrawny build, long blue hair, green eyes w/ glasses. Plain looks with a little sexy
Hair: Long and blue
Eyes: Green with Glasses
Outfit: typical Japanese school outfit with black stockings, and a hidden dagger.
Personality: Usually gentle, she is a nurdite with a hidden dark streak.
Expression: gentle
Backstory: ?

Princess
Credit: Alex
School: Sore & Pearl (running gag)
Gender: Female
Race: Lolita
Age: In her teens???
Looks: Short, tiny, and CUTE. Short blond hair with green eyes. Always has a neko-mouth :3
Outfit: Schoolgirl outfit, of course! She also has a tail like the Cybertron Undermine toy.
Personality: Incredibly cute, but with no clue how contribute to conversation. Only purpose is one-liners and blind agreement. "Princess" is a girl of contrasts, even in appearance, because a very short, tiny child who is supposedly old enough to be in high-school by all rights should not have a robotic tail. She can be very, very intelligent, but most of the time her behavior is as erratic as a car driven by Schrodinger's' cat. She spends most of her time in class sleeping, yawning, getting up, writing down homework, and firing off some hit-and-miss one liners before falling asleep again. Her collection of Kiss Players is hilarious and disturbing. She's somehow subconsciously attracted to anyone/thing Loli-ish, even clothes, But she'll talk to anyone. Rumors of a Perverted talking duck following her around are greatly exaggerated.
Backstory: ?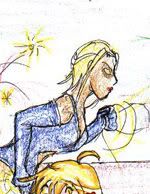 Sandstone
Credit: Limabean
School: Pearl
Gender: Female
Race: ?
Age: ?
Looks: Yellow scaled skin, blond hair, yellow pupil-less eyes, slightly buff. Blue skimpy lycra.
Outfit:
Personality: ?
Backstory: ?

Sandy Holo
Credit: San Holo
Gender: Female
Race: Zombie
Age: 19
Looks: Medium height, but always slouching. Scrawny build with pasty skin. Brown hair and grey eyes. Blank expression.
Outfit: Tattered raggedy clothes, a shovel.
Personality: Likes to Eat the flesh of the living.
Backstory: Sandy was recently hired as the gardener of SoRe, but is only ever seen digging large holes and throwing big trash bags in them. People try to avoid her because she smells like the inside of a dumpster. Incidentally, ever since she arrived there has been an increasing amount of student disappearances.

Mr. Shadow & Alto
Credit: skyshatter
School: Sore (Academy history prof/mad scientist)
Name: Mr. Shadow
Gender: M
Race: Human
Age: Old
Looks: Think Master Roshi. Old and bald, never seen without swirly glasses.
Outfit: Lab coat, tee-shirt, Bermuda shorts, sombrero. Carries a cane, shot gun often pulled out of no where, various textbooks, Pet Emperor Penguin named Alto, and liquor bottles in his lab coat pockets.
Personality: Often drinks during class. He gets a lot of nose bleeds and wondering why these things happen to him.
Backstory: ?

Skyra
Credit: Skysaurus
School: Sore (Science prof)
Gender: F
Race: Human
Age: ?
Looks: Tall and medium build, long-ish dark brown hair.
Outfit: Plain T-shirt, jeans.
Personality: Possibly one of the sanest people at Sore.
Backstory: Skyra is the science teacher at the School of Rejects. She was also the former science teacher at Pearl, but was fired after an experimental accident nearly blew up the whole science lab. Now at SoRe, her luck seems to have taken a turn for the worse, as her new pupils are capable of causing far more chaos than she ever could. Though she has grown tired of having experiments blow up in her face, she has become a steadfast member of SoRe's faculty.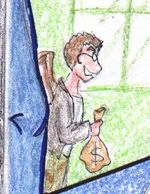 Vince
Credit: Clench
Gender: Male
Race: Winged human
Age: 16
Looks: 5'5", medium build. Short brown hair and hazel eyes, wears glasses.
Outfit: A hooded sweatshirt jacket, a "Cereal Killer" T-shirt, and a pair of camo-print cargo shorts. He carries a Gold-bladed beam saber.
Personality: Compulsive thief.
Backstory: ?

(c)2008-14 MEDdMI & TMM. Do not use without permission.